Posts Tagged "impressum"
Check out all of the posts tagged with "impressum".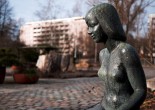 Anga­ben gemäß § 5 TMG
02. Jan.
PLATTENKÖPFE
Wilfried Stallknecht
[Link]
Wilfried Stallknecht, einst am Institut für Hochbau der Deutschen Bau- akademie tätig, erzählt über die Entwicklung der Plattenbautypen "P 2" und "WBS 70".
Events cannot currently be displayed, sorry! Please check back later.

Warning: Creating default object from empty value in /www/htdocs/w00d32f5/metropolar/wp-content/plugins/contexture-page-security/core/CTXPS_Security.php on line 250